Bruxelles
29/11/2019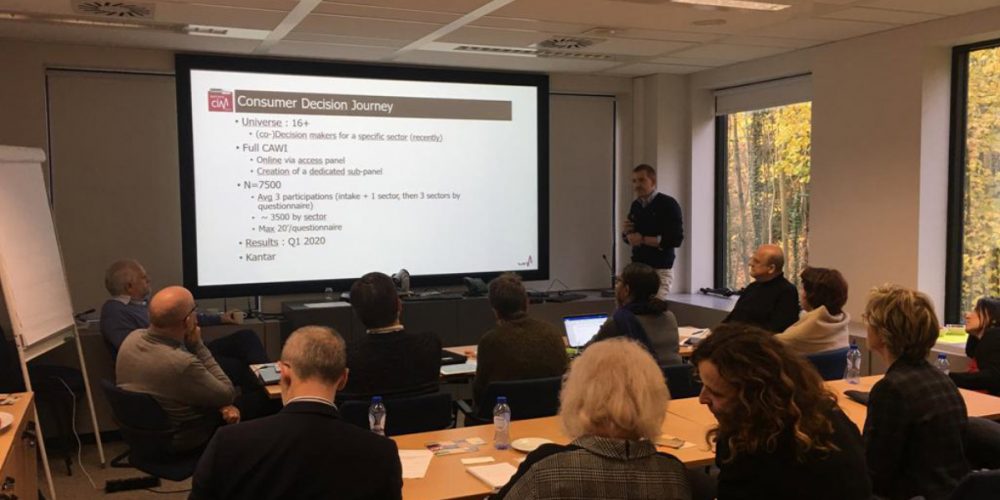 The MmM meeting 2019 was hosted by CIM and took place on 29 November 2019 in Brussels
Once a year i-jic organises a day of visit to a member organisation to learn more about its governance, scope of activities and current research projects. This year the trip went to Brussels to one of our founding members. Le Centre d'information sur les medias / Centrum voor Informatie over de Media was found in 1971. CIM represents the type of Joint Industry Committee which is responsible for the audience measurements of all media categories.
Stef Peeters, the General Director of CIM, started with an overview of the organisation and governance. For some of the 15 participants it was interesting to hear that in Belgium the agencies and advertisers do not only pay with the cooperation and acceptance of currency data, but also contribute with real money to the financing of CIM research activities. The great importance of agencies is then also shown, among other things, by the fact that CIM carried out a new study this year "Consumer Decision Journey" that is particularly interesting for agencies.
Then Stef, Michaël Debels, Research Director and Kurt Beveghems, Head of TV and Digital, gave an overview of the various currency studies of the different media genres. The modular structure of the CIM presentation was very charming. CIM prepared many individual presentations and the participants could then choose which topics they wanted to learn more about.
The presentations were full of content and also stimulated many discussions. By the way we also learnt a new word "jicism". It describes the phenomenon that decisions within a JIC are normally not made within 24 hours.
After the meeting in the offices of CIM i-jic invited the participants to a dinner which took place in an old newspaper printing house. It goes without saying that one eats very well in Brussels – if not, then the European Commission would not have pitched its tents there.
Cher CIM, merci beaucoup pour votre hospitalité resp. Beste CIM, dank u wel voor uw gastvrijheid.
Harald Amschler, Dez. 2019
– See also the photos